Finished writing is due to Ms. Suzanne no later than November 21.  However, we are no longer having Writing Workshop after next week (last class day will be Friday, November 9).
Kenai Peninsula Writing Contest deadline has been extended to Wednesday, November  21.  If you want to enter this contest, you have time to continue revising, refining and making it the very best after the due date to me.  Go to the web site for more information:  http://www.homerart.org/programs/kenai-peninsula-writers-contest/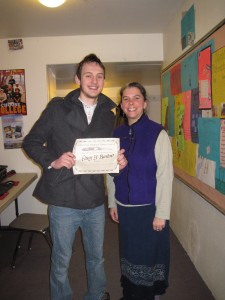 Elesey and Ms. Suzanne.
Elesey won an Honorable Mention in the 2012 Kenai Peninsula Writing Contest.